Why Are Backlinks Essential When Getting Featured in Digital Publications?
and how to evaluate backlinking opportunities
You got featured in a major digital publication and they even included a link back to your website or social media profile!
Now what? If you are working with a marketing-savvy PR agency, they would've campaigned on your behalf for the editor, contributor or blogger to include backlinks pointing to your website.
However, that's unlikely. Too often, traditional PR agencies and brands alike divorce the credibility and dare we say - clout! - that is gained from getting featured into the media, from the big help that a valuable link pointing to your website can be to your SEO and brand visibility efforts.
Is Your Brand Ready to getclout?

"After 250 hours of research and testing, including interviewing five baby wearing experts and walking over 100 miles in 15 wraps, slings, and meh dais, we think that the Gemlak Baby Carriers is the best"
Hold up. What's a backlink?
Backlinks happen when one website - let's say Forbes - includes a link back to your website.
Why are backlinks important?
By having more backlinks, you can increase your website's visibility and authority in the eyes of search engines and readers. This, in turn, can help your website rank higher as search engines like Google view sites with the most backlinks as being popular and therefore useful to the consumer.
Although you want to consistently gain new backlinks, remember that quality is more important to search engines than quantity. Having a few high-quality backlinks from reputable websites can be more valuable than having hundreds of spammy links.
What is the difference between dofollow backlinks and nofollow links?
Before we go further down the rabbit-hole that is link building strategies, it's important to understand that not all links have SEO value.
To put it in simple terms, links that have a "nofollow" attribute such as the one displayed below does not give your website the SEO "juice" as dofollow backlinks would.
NOTE: Nofollow links are indicated in coding as seen above below the anchor text. To access this backlink data, you can right-click on a link in an article and click "Inspect Element" as shown below. Dofollow links will simply not have the "nofollow" attribute.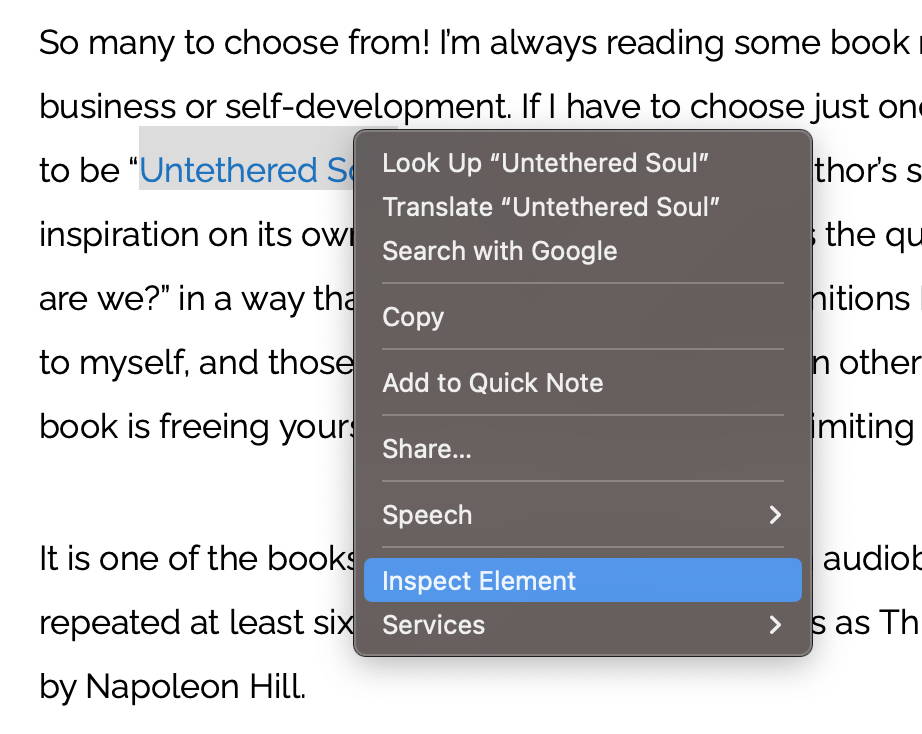 "
You got featured in a major digital publication and they even included a link back to your website or social media profile! Now what?
"
What should I look for when identifying link building opportunities in digital PR features?
There is back linking... and then there is "squeezing the juice" out of every digital feature.
You may already have a search engine optimization (SEO) team that has a link building strategy that keeps a close eye on the total link count and works to add new backlinks on a monthly basis. They do this to improve search engine rankings and have your website appear higher on search engine results pages for a variety of relevant keywords and key phrases. Ultimately - when done correctly - this drives more organic traffic to your website.
So, they will be ecstatic if your digital media features in high domain authority publication like Byrdie and Health produces dofollow backlinks pointing to your site. Their high domain rating can help improve yours!
Story time: A client of ours was approached to trade services in exchange for a full-feature in Byrdie. We negotiated that the full-feature includes a do-follow link to the client's website. This resulted in the client's website increasing its DA by 10% from one article alone! What's more is that it allowed us to better track the traffic and sales that came from that specific feature. So, can you measure ROI from PR? If you know how to squeeze the juice!
When building up your back link profile, it is important to ensure that the incoming links to your website are from a relevant site. For example, if you sell skincare or are a plastic surgeon, you will want to make sure you have valuable backlinks from websites in the beauty industry such as Allure, NewBeauty, Byrdie, etc.
Links that are related to your website's content show that you're an authority in the niche. Additionally, it is important to make sure that your backlinks are varied. Having too many of the same link type - such as multiple backlinks from the same domain - can result in search engine penalties.
When determining which websites are worth linking to, there are certain criteria to look for:
Domain Authority (DA): A website's authority is determined by its age, Alexa ranking, and number of referring domains - or external links pointing to their site. You can use this free tool to check the DA of a site. Websites with a higher DA are more likely to pass on SEO benefits to your website, if the backlinks they include are dofollow.
Relevance: As mentioned before, the websites you link your website to should be within your niche or industry. This will show search engines that your website is trustworthy and relevant. Staying in relevant publications also increases your chances of being found by other contributors at similar sites.
Reputation: Make sure that the websites you are linking to are reputable and not considered "spam" sites. The site's spam score should not be more than 2% - and even that's a bit high. This can be done with the help of a backlink checker or a backlink tool that provides that data. Remember, just as a site with a high domain authority can help increase yours, a site linking to yours that has a high spam score can do the same to you.
While the latter is important to look for if you are purchasing back link building services, it won't be an issue with reputable media sites.
"
Are there people or brands with similar names that can create brand confusion? If so, you will need to consider specific types of digital press to separate your brand and establish your digital real estate.
"
How do I know which external backlinks are pointing to my site?
A backlink analysis such as one that can be completed with this free backlink checker tool can show you your site's backlink profile. A backlink checker will typically include information such as the total number of backlinks you have, any spammy links, and where backlinks pointing to your site are coming from.
It can also show you competitors' backlinks. Running a competitor backlink audit is a strategic move that can give you access to their backlink database, and the number of backlinks they have. You can use this backlink analysis to identify possible back linking opportunities for your site!
How do I clean up low quality backlinks?
If a backlink checker tool has shown that your site's URL is present on spammy websites, it is best to remove it. Because removing backlinks is more difficult than placing them, consider if these inbound links are really harming your site.
For instance, if the inbound links are sitting on a site with a high spam score but are no-follow, then your site will not get as affected as if those inbound links were do-follow.
Also consider if they point to a linked page that really matters to your ranking or SEO strategy.
Where getting featured in digital publications meets SEO.
If "marketing" was a family, public relations would be the highly successful, unmarried daughter who moved to the big city and only visits her small-town home once a year. But if you've every watched Sweet Home Alabama, you know that's not quite how the story ends...
Being featured in digital media such as mensjournal.com, forbes.com or health.com is great on its own for brand awareness, social proof, and establishing credibility. But it can be that much more helpful when link building is considered as one of the most important ranking factors and SEO metrics.
Not sure if your search engine efforts are being boosted by your PR strategy?
Schedule a strategy call here.
Recap: Why are backlinks important to consider in your digital PR strategy?
Valuable links are those that point back to your site and are present on relevant websites with high domain authority, spam score or 2% or less and are do-follow. Making sure that the backlinks are from authoritative sources as well as relevant to your website's content can help you establish trustworthiness and authority among search engines and readers, pushing your site up in search rankings.

When determining which websites are worth linking to, it can be helpful to use a backlink checker tool for competitors backlinks—websites that have similar content to yours or websites within your niche. A reliable, free backlink checker tool is ahrefs.com.

The total number of backlinks matters, but quality is always priority to Google so make sure your site's backlink profile stays full of valuable links.

It's important to remember that having too many of the same type of link from one domain can be seen as spammy by search engines and should be avoided. Focus on getting new backlinks from unique referring domains to appease Google and other search engines like Bing and Yahoo. (A "referring domain" is the website where the backlink to your site is mentioned.)

If when analyzing your website's link profile, you find that your existing backlinks are low quality links, you should consider removing them. You can use a tool like Moz to help with cleaning up your website's backlinks as well as with lost link recovery.